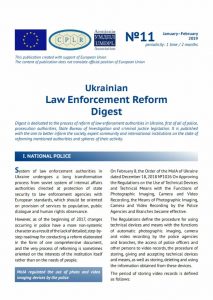 Ukrainian Law Enforcement Reform Digest. Issue 11: January-February. – Kyiv: Association UMDPL, CPLR, 2019. – 8 pages.
Responsible for the Issue: Stepan Zolotar
Editors: Oleksandr Banchuk, Eugene Krapyvin
Design, page layout: Ivan Yurchyk
Digest is dedicated to the process of reform of law enforcement authorities in Ukraine, first of all of police, prosecution authorities, State Bureau of Investigation and criminal justice legislation. It is published with the aim to better inform the society, expert community and international institutions on the state of reforming mentioned authorities and spheres of their activity.
Periodicity: 1 time/ 2months
This publication created with support of European Union. The content of publication does not translate official position of European Union.