May, 15 – The Fourth meeting of the Parliament-Civil Society Platform — a joint initiative of the European Union Advisory Mission (EUAM) and OSCE Project Coordinator in Ukraine (OSCE PCU) — brought together 180 senior law enforcement officials, parliamentarians, experts and civil society activists in Kyiv to elaborate concrete steps aimed at boosting the effectiveness of criminal investigations in Ukraine and improving coordination within and between law enforcement agencies.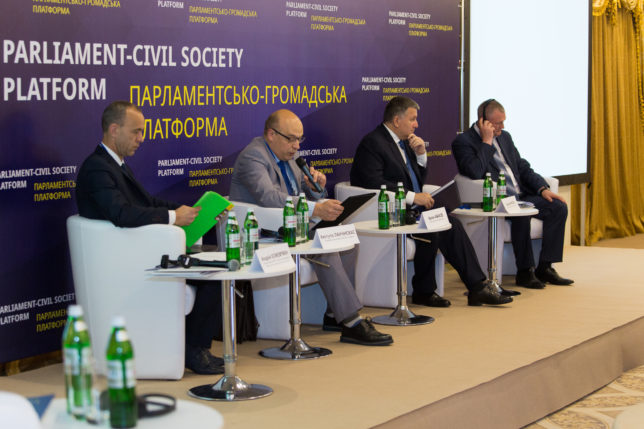 The event was dedicated to the improvement detectives to the National Police, problems with adoption criminal misdemeanors and questions of suspension and closure of criminal proceedings.
Representatives of our group Borys Malyshev, Eugene Krapyvin, Mykhailo Kameniev, Serhii Bahlai, Maryna Tsapok, Vadym Pyvovarov took part in the meeting.
Borys have moderated expert discussion on "How to optimize the workload on investigators: inquiry investigation and simplified procedure".
Eugene spoke on the discussion on the "Problems with suspension and termination of cases".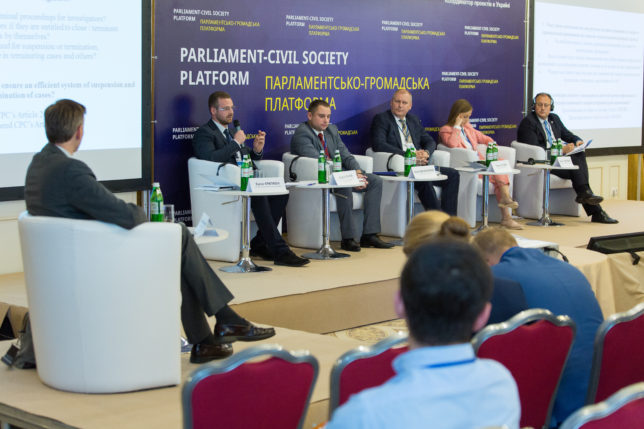 During the meeting discussed issues about the reform of the criminal investigation structures (pre-trial investigation and criminal police), including legislative and institutional reforms which Ukraine needs to achieve for the effectiveness of the new detectives.
Institutional changes include in particular the following:
– optimization the system of accounting the criminal proceedings and to reduce enormous load of proceedings on detective;
– the refusal of evaluation of quantitative and statistical indicators of which is the central dynamic of "solved" crimes toward a comprehensive evaluation system for quantitative and qualitative criteria;
– the improvement modern e-case management system (electronic document between a pre-trial investigation, prosecution and court);
– and so on.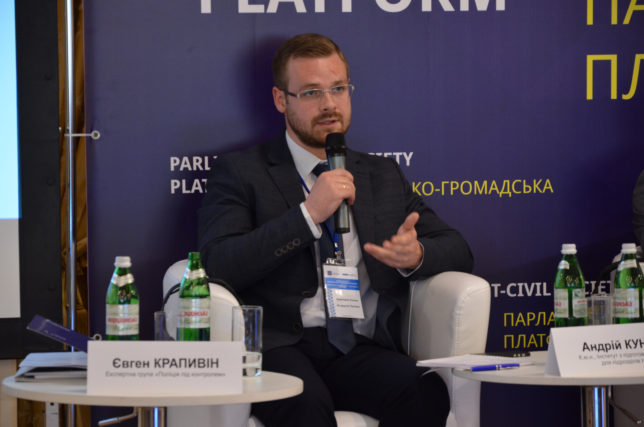 In opening of the meeting took part Minister of Internal Affairs of Ukraine, Arsen Avakov, the Head of the Verkhovna Rada Committee on Legislative Support of Law Enforcement, Andrii Kozhemiakin, the Head of the National Police of Ukraine Sergii Kniazev.
In January 2017, EUAM and the National Police of Ukraine (NPU) launched a joint pilot project in Boryspil police station, merging the activities of operatives and investigators under one chain of command. This model has already proven successful in EU countries such as the Czech Republic, Lithuania, Poland and Romania. Currently, this project is being implemented in eight regions of Ukraine – Kyiv, Kharkiv, Khmelnitsky, Lviv, Odesa, Poltava, Sumy and Zaporizhe.
Information about meeting on the web-site of EUAM.
---